Bestie Brands Hands Free Blow Dryer Holder
Our goal is to help you get the hair you really want by making blow drying easy, fast and fun with way better results using the Bestie blow dryer holder. It's gonna hold your blow dryer for you while you are drying your hair!
Let's Get Started!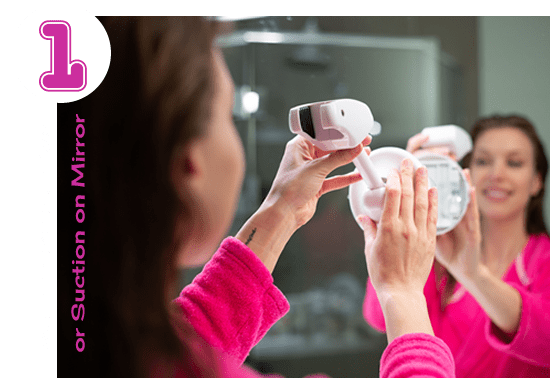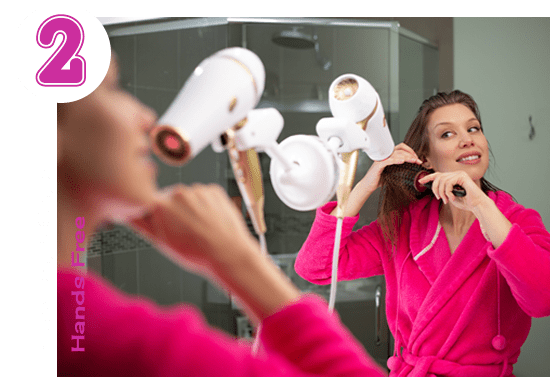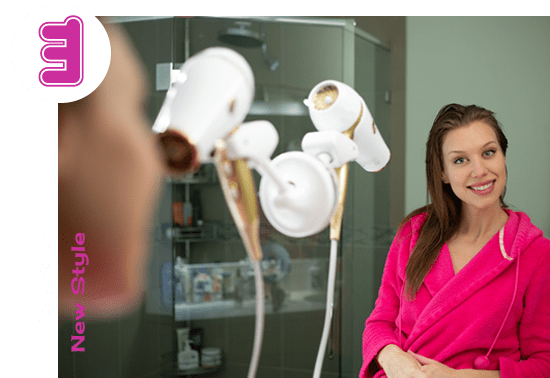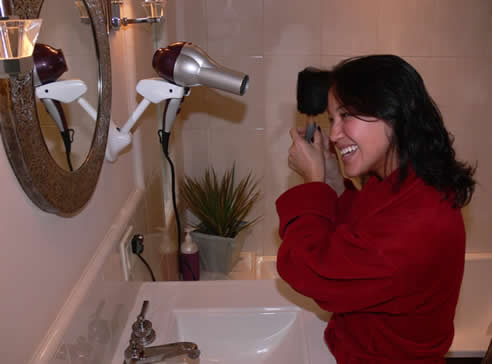 Bestie mounts securely to the wall, or temporarily to the mirror, wherever you do your drying and styling. 
Mount at eye level

Place dryer inside
Position as needed – pick up your brush and go for it! 
Bestie fits all standard sized hair dryers. For bigger handles, pop out the black gaskets in the holder to allow more space!
You can round brush for smoothness or curls – or flat brush to straighten or speed dry.
You can even air dry while brushing your teeth or applying makeup to help save time!
Our goal is to revolutionize how women get ready and make EVERY day a GREAT HAIR DAY!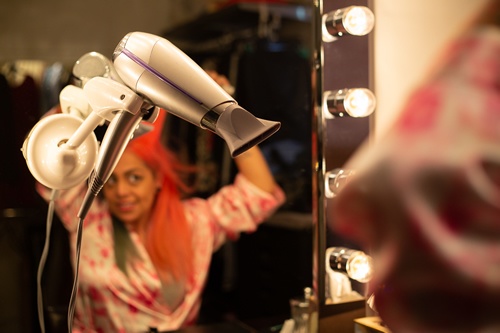 I was not sure what to expect with this Bestie Brands Hands Free Hair Dryer as I've never seen such a thing. It sounded like the perfect tool for our house full of girls. The holder arrived and we had to play with it right away. The base is a good size and it even comes with the hardware to mount it to the wall. I was able to get it installed quickly and easily.
"Great tool. For styling especially long "blow out" styles…..A brazilian Blow look. Allows me to put on makeup while styling hair. Also a great Tool for my older mother who can dry her hair without a lot of effort since she has limited use of her arms." – Carol
"I've had mine up for almost a year now and haven't touched my dryer since. My hair is super curly so I use my flat brush with both hands to get it super straight and then flat iron for perfection. Used to take half an hour the old way. Now I knock it out in under fifteen minutes. Clean and fresh and looking good!" – Ali
"This product is amazing! It lets you style and blow dry your hair faster and better! I use it everyday and Its wonderful! Do yourself a favor and get yourself a bestie holder!" – Mickey
I love my Bestie! I can fully blow out my long hair in 5-7 minutes straight and smooth! I love that I can maneuver it in different angles. It's incredibly easy to use. Professional results at home. Worth every penny.
"I've been using my Bestie blow dryer holder for over a year and this product has helped not only to take stress off my hands, but it's allowed me to finally get awesome volume from my thin hair. I highly recommend this to anyone who wants to cut time and stress out of their hair styling routine!"
"So, I dated a girl many years ago who had thick, dark hair, and getting ready meant allotting the necessary time for her to dry that hair. She would stand there forever. She hated it, I hated it, (though, that's not why we broke up). When I saw this product, the first thing I thought of was my ex gf. I bought her one for Christmas and her report back was that it was a lifesaver, (well, at least a timesaver). Now she can apply makeup during that drying time. It's made her whole getting ready routine twice as productive. I assume she can use it to help style her hair, too, but I know for her, it's all about being able to multi-task." – Mark
"My hair dryer fits in the mount nicely. It holds the dryer tightly so you can dry your hair without having to hold the dryer. This is great for my daughters as they can now text and play games while they wait for their hair to dry enough to style it. I can use it to dry my hair while I try to maneuver the different styling brushes I have. It is so much easier to use them when not holding the dryer too. The holder is nice looking and looks appropriate in the bathroom. It also frees up counter space as you can leave the dryer in the holder while you're not using it. I love how easy it is to position the arm where you want it."
Blowing out my own hair has always been a struggle. It would always take forever to round brush my own hair; using one hand and struggling to hold the blow dryer. Eventually I gave up on all hopes of successfully blow drying my hair my self until I received my bestie blow dry holder. I AM ABSOLUTELY OBSESSED with my blow dry holder. Not only can I successfully round brush my hair myself but the time it takes to blow dry my hair is so much faster! My mornings and hair has been changed 🙂 I definitely am telling all my friends about this amazing blow dry holder!